Metal Detection & X-ray
From our manufacturing facility in Rushden, Northamptonshire, we produce our own range of metal detection equipment. The 'Fortis' metal detector concept was borne from the desire to produce a machine that delivers reliable and effective detection and is easy to maintain, future proofed and the ongoing cost of ownership is kept low.
As a Partner with Minebea-Intec we are also pleased to be able to offer our customers the 'Dymond' X-ray system and variants for a range of applications.
We are an independent Company and therefore also offer for sale a range of new metal detection equipment from other manufacturers including Minebea-Intec, Fortress Technologies (Europe) and Ceia.
Products
In-line inspection equipment is a major capital expenditure. The equipment you invest in must be correct for your application and budget. If you are considering the purchase of new equipment, our sales team would be delighted to meet with you and make recommendations to suit your requirements.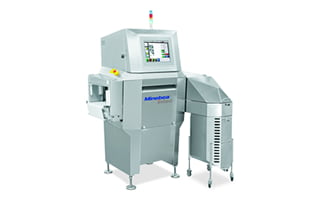 Dymond/Dylite X-ray Systems
The Dymond series of X-ray systems cover the majority of applications for inspecting packaged products. The system is extremely versatile for ensuring product integrity and quality.
Fortis
A standalone metal detection system that can be supplied in variants that range from the base, ring bell and stop, to a full retail compliant system that has all current failsafe equipment. Fortis+
The Fortis+ is a larger, more robust metal detection system for detecting bulk or cased product. The system can be supplied with either modular link, or PU belting.
Service Contracts
Remove the headache of unreliable equipment with a service contract, which will provide you with a cost-effective means of managing your equipment.
UK Inspection Systems Ltd offers a range of service contract levels from which you can select the most appropriate package.
Our contract customers benefit from prioritised call-out response, discounted rates, service interval diary management, technical helpline and document management.
UK Inspection Systems are honest, reliable and highly competitive in the market. They have never let me down, and always get us out of trouble. They will always take your call day or night and provide the cover and support required. Unlike other companies, UKIS only sell themselves – they don't push products but will advise you wisely.
HEAD OFFICE
Unit 15, Hercules Way
Farnborough Aerospace Centre
Farnborough
Hampshire GU14 6UU
Tel: 01252 510565
MANUFACTURING
Units 5 & 6
Elan Court
Norris Way
Rushden
Northants NN10 6BP
PRODUCTS & SERVICES
Metal Detection & X-ray
Combination Systems
Check Weighing
Scales
Spares & Accessories
Training